From Duke Teaching First to the Duke Faculty Union
While it must be considered a success when a union begins to be taken for granted, it's important to remember how hard we worked for our union. A union is not a group of specific people who advance improvements over an extended period of time. A union is a relay race of many, many people who run their part of the race and then pass the baton forward. It took a lot of dedicated and honorable people to get us here, many of whom are no longer at Duke. Here are some of the milestones along the way.
Spring 2015: We Begin to Organize
Duke non-tenure-track faculty, spurred by the Faculty Forward campaign at UNC-Chapel Hill and the activism of graduate students on both campuses, begin to gather to discuss ways to improve the conditions of non-tenure track faculty at Duke. Many of us had never talked to faculty outside our disciplines before about these issues. As we began talking to each other, we realized that many of us faced the same issues: lack of health insurance over the summer, limited opportunities for professional development, lack of job security, limited access to essential teaching supplies such as computers, and a lack of job security. We could not understand why some of us had been teaching at Duke for a decade without ever receiving a contract for longer than a semester at a time. Nor was it clear why there were only a handful of grants available to non-regular rank faculty. Given how widespread this issues were, we realized that collective action was necessary.
We decide to call ourselves Duke Teaching First to draw attention to our goals of improving teaching conditions for us and learning conditions for our students.
May 2015: We Reach Out to the Adminsitration
We sent a letter to the administration outlining our desire to gather more information about untenured faculty at Duke and working together to address our concerns. Much of the information requested would have been public record at UNC-CH but was not at a private university. We had a representative signatory from the undergraduates, the graduate students, non-tenured faculty, and tenured faculty.
Early Fall, 2015: We Decide to Form a Union
Not having heard any response to our May letter to the administration, we made the decision to organize a union with SEIU.
Because Duke is a private institution, it was possible for us to form a union with collective bargaining rights. Public employees in the State of North Carolina—including employees at UNC—are not allowed to collectively bargain. Check out our FAQ page to learn more about unions and collective bargaining.
In order to form a union, however, we needed faculty to sign cards calling for a vote. Then we needed a majority of faculty to vote YES.
September 17, 2015:
Students Deliver Letter of Support for Non-Tenure Track Faculty
A group of undergraduate students delivered a letter of support for Duke Teaching First with more than 400 signatures to President Brodhead. The students called on Brodhead to remain fully neutral as non-tenure track faculty organize for better working conditions.
Ashlyn Nuckols, one of the students who delivered the letter, said, "It will be beneficial to students and administrators if Duke can become a leader in trying to change this trend." Read more in the Duke Chronicle.
October 8, 2015: Students Hold a Speak-out to Support Faculty Organizing
Duke undergraduate students, led by Duke United Students Against Sweatshops (USAS), organized a speak-out in front of the chapel in support of contingent faculty. The speakers included three contingent faculty and three undergraduates.
October 9, 2015: Duke Faculty Meet SEIU President Mary Kay Henry
Four members of Duke Teaching First met with SEIU president Mary Kay Henry and contingent faculty from Appalachian State University, ECU, NCCU, NCSU, and UNC-CH to share experiences and build solidarity throughout the state.
October 28, 2015: Melinda Wiggins Becomes an Early Supporter
Melinda Wiggins, Executive Director of Student Action with Farmworkers, a Duke-based non-profit, wrote to President Brodhead and Provost Kornbluth, urging them to respect contingent faculty's right to organize: "We all know that Duke has the resources to do the right thing by these important faculty members. I strongly urge you to refrain from interfering in Duke contingent faculty's efforts to form their union."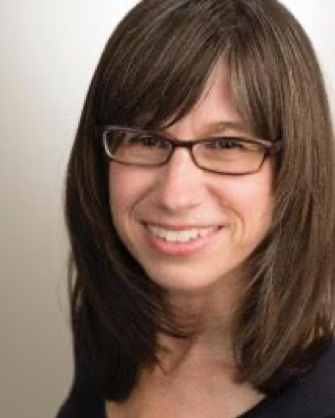 November 24, 2015: Representative Scott H. Peters Lends Support
U.S. Representative Scott H. Peters, a Duke alumnus and father of two Duke students, wrote to President Brodhead and Provost Kornbluth. "As Duke contingent faculty continue to democratically organize, I urge you to fully respect their right to do so."
December 2015: Yard Signs Begin Popping Up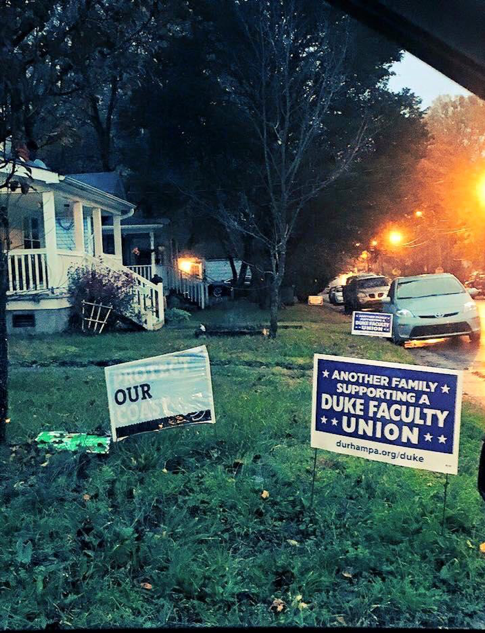 December 3, 2015: Tenured Faculty Express Solidarity
Over seventy tenured and tenure-track faculty run a full-page letter of support in the Duke Chronicle, writing that "we, tenured and non tenure track faculty at Duke, strongly support our non-tenure track colleagues' effort to unionize. We appreciate their contributions to teaching our students, and realize that without their hard work, Duke would not be able to fulfill its educational mission."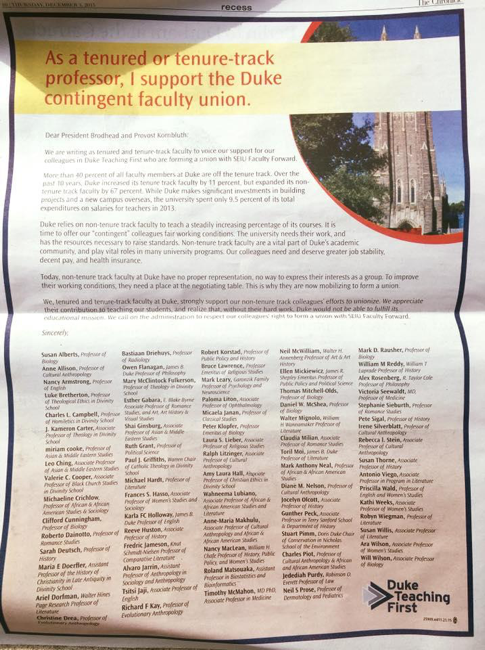 February 9, 2016: Conversation with the California Faculty Association
Cecil Canton and Charles Toombs—Vice Presidents of the California Faculty Union—travel to Duke to share how one of the nation's largest faculty unions led the fight for fair and inclusive employment policies for university faculty.
February 14, 2016: Valentine's Day Solidarity Across Campus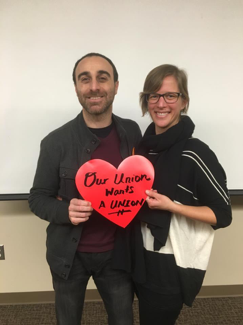 February 2016: Our Colleagues at the University of Chicago Send Their Support
March 10, 2016: Durham City Council Passes 7-10 Resolution Supporting Duke Faculty
The Durham City Council passed a resolution in support of non-tenure track faculty, endorsing our rights to improve our working conditions and to have a collective voice on campus without interference from the administration. The resolution—which declared that "the City of Durham is stronger when more of our residents have stable and secure jobs that enable them to contribute to the common good of the city in the long term"—received unanimous support from members of the City Council and the Mayor.
March 18, 2016: Duke Faculty Vote Yes!
In a landmark victory for non-tenured faculty across the country, Duke non-regular-rank faculty voted overwhelmingly to join SEIU. Votes from the all-mail ballot election were counted at the Winston-Salem office of the National Labor Relations Board—yielding a resounding 174-29 tally in favor of a union. Our victory marked the first faculty union election at a private university in the South in decades.
While many non-tenured faculty were involved in Duke Teaching first and were crucial to our organizing campaign, only non-regular faculty (Instructors and Lecturing Fellows) in the Trinity College of Arts and Sciences, Graduate School, and Center for Documentary Studies participated in the union vote and ended up being part of the bargaining unit.
April 2016: Duke Faculty Stand with the Student Occupiers of the Allen Building
September 11, 2016: Bargaining Begins!
After a powerful meeting and training with our grad student colleagues and faculty in the UNC system, we began bargaining a first contract!
June 19, 2017: WRAL story on unionized faculty demands
https://www.wral.com/duke-adjunct-faculty-demand-higher-pay/16772073/
July 13, 2017: WRAL story on historic contract agreement
https://www.wral.com/duke-adjunct-faculty-agree-to-union-contract-first-of-its-kind-in-south/16818079/
July 28, 2017: Duke Faculty Ratify First Contract!
After months of negotiations with the administration, our members voted unanimously to ratify our collective bargaining agreement—the first faculty union contract at a major private university in the South. We are proud of our contract, and of the extent to which members regularly attended and participated in negotiations. Check out this article from the Raleigh News and Observer about our historic achievement.